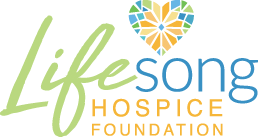 Our Mission
To inspire. To influence. To make an impact.
Our Vision
To honor the lives and legacies of those we have served in hospice by touching the lives of those whom we now serve.
Our Purpose
The Lifesong Hospice Foundation strives to provide the resources necessary to support the needs of hospice patients and their families beyond the hospice benefit.
Address
Lifesong Hospice Foundation
3880 TecPort Drive
Suite 2
Harrisburg, PA 17111
Get Directions